CONFERENCE SITE
CONFERENCE VENUE
The MOC2021 will take place at Congress Center, ACT CITY Hamamatsu, Shizuoka, Japan. It is located adjacent to Hamamatsu Station, the gateway to the city of Hamamatsu.
Congress Center, ACT CITY Hamamatsu
111-1 Itaya-machi, Naka-ku, Hamamatsu, Shizuoka, Japan
Tel +81 53 451 1111 https://www.actcity.jp/pdf/actcity_pamphlet.pdf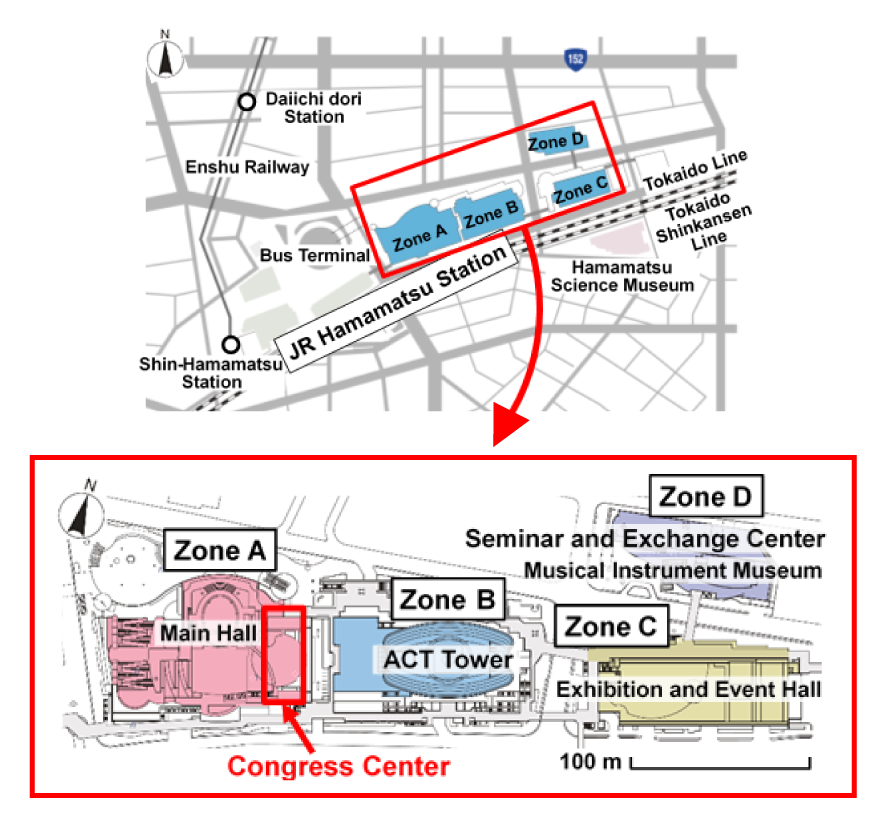 About Hamamatsu
Hamamatsu is the largest city in Shizuoka Prefecture and located about halfway between the two metropolitan cities of Tokyo and Osaka. There are many tourist attractions of great historical and cultural significance including famous temples, historical landmarks, and Lake Hamana. A wide range of activities are also available at Hamamatsu: bathing in hot springs, cycling, marine sports, and industrial tours unique to the "City of Manufacturing." As for food, visitors will no doubt be satisfied with local specialty foods including gyoza dumplings, mikan oranges (mandarin oranges), and fresh local seafood like eels, oysters, and puffer fish. For detail on sightseeing, visit https://hamanako-tourism.com/en/
ACCESS
Centrally located between Tokyo and Osaka, Hamamatsu is only about 90 minutes away from either of the cities by Shinkansen. ACT CITY, an event center offering direct Shinkansen access, can be easily reached on a day trip from major cities in Japan.